I give traditional silkscreen courses, not industrial serigraphy courses. Hence all the work is done entirely by hand : the preparation of screens and the printing onto various materials. The student learns different techniques of transferring a picture or a drawing onto a screen, is introduced to the blending of inks and practises printing onto paper and textile.
Several levels are available and for each level the courses cover 4 weeks.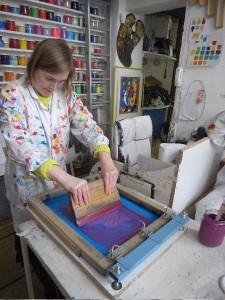 Level 1 : beginners

 

Theoretical overview of the different screen printing techniques that have been used from their origins in China to the present day. 

Practical training :  manual

preparation of screens (Chinese ancestral method, blocking substance method, liquid latex method, "à la frisquette" method, etc…) 

preparation of the ink and printing onto various surfaces (paper, textile, cardboard, Tee-shirts, etc…)

Level 2 : advanced

Further examination of certain technical points concerning the manual preparation of screens and introduction to the use of the photo emulsion method.

Further study of colours and inks : analysis and colorimetry of inks, colour harmonies, contrasts, gradation, creation of colours, etc…

Preparation of colours and printing onto various materials.
The fees are of €400 per person per level for a 32 hour session.
All the necessary materials are provided and included in the price.
Phone :   +33 6 33 44 38 47     –     e-mail :  nik@serdart.fr
Each level runs over 4 weeks, two afternoons a week :
Either on Tuesday and Thursday afternoons from 2:00 pm to 6:00 pm
Or on Saturday and Sunday afternoons from 2:00 pm to 6:00 pm
The courses are taught in small groups of a maximum of 3 students, in my studio in Paris at 17, rue La Vieuville, 75018 Paris, France.

The next session will take place from Tuesday September 26th to Thursday October 19th 2023.